Are you looking to rent a portable restroom for your event somewhere in Upstate New York? Is it going to be the first time that you will be renting a portable toilet?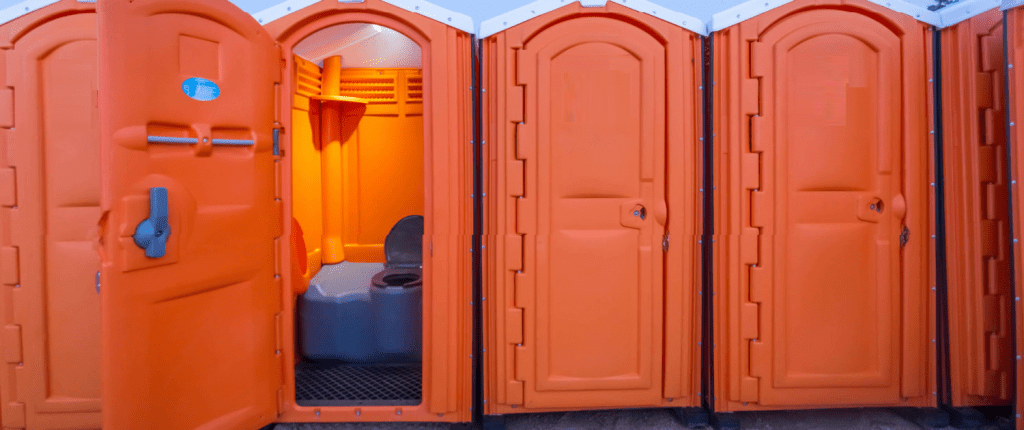 Then you have come to the right place. This page discusses all about portable washroom rentals that will help you know better what suits your needs and select the best solution for you.
Why Choose a Portable Restroom?
Portable restrooms are one of the most useful inventions helping outdoor event organizers. Be it a personal party or gathering, or camping, or carnival, or handicrafts exhibition, portable washrooms make lives easier to everyone. They have certain advantages too
Portability and Versatility
Portable washrooms can be placed at any place on the event grounds. You can change their locations too, depending on the convenience of your guests.
Ease of Use
If traditional bathrooms in your venue are not sufficient for the number of visitors, portable toilet rentals are good options to go for.
Cost Efficient Option
If a carnival ground hosts gatherings only 10-15 times a year, permanent toilets may not be a cost effective option. Having permanent toilets would also mean regular maintenance, apart from the initial construction cost. A rented array of portable washrooms in the event of a gathering is a better idea.
Types of Portable Restrooms
Before you rent a portable restroom for your event near Syracuse, you should know the different types available in the market.
Cold Water Chemical Portable Toilets
This is the most basic type of portable restrooms without any external power supply. This is good for placing at construction sites.
Hot Water Chemical Portable Toilets
These have electrical connections of either 110v or 240v to heat up water inside the washroom.
Mains Connected Portable Toilets
These too have 110v and 240v power supplies, is lightweight and fitted with hot water sinks.
Portable Toilet Trailers
These are luxury options to standard portable restrooms. Toilet trailers are much more comfortable options and some providers have portable toilet trailers like the bathroom in your home. A restroom trailer is more convenient for the host too as it eliminates long queues and accommodates several guests at the same time.
How Should You Choose Your Portable Toilet Rental?
You can consider the following few factors to help you decide the capacity of portable toilets that you should rent for your event.
The Number of Guests
This is one of the important primary factors to consider while renting a portable toilet. If your guest list is long, you should probably look for renting 2-3 arrays of portable restrooms to accommodate all of them. If you are a little high on budget, you might also consider renting a restroom trailer. The latter will also take up less space as compared to portable toilet arrays.
Public Toilets in the Vicinity
If public restrooms are not available in the vicinity of your venue, you must opt for portable toilets. If there are, then you need not rent a lot of portable washrooms.
Event Duration
A restroom trailer is advisable if your event is schedules to run for 2-3 days. For events spread over a few hours, portable washrooms should suffice. Thus, portable restrooms are a convenient and clean option to go for when you host an event.
There are several Portable Toilet Operators or PROs to choose from when renting a portable restroom. Weigh your options before settling for a final choice for your rented portable restroom. Give us a call at 315-640-3447 to find you more.
Portable Toilets provided by Syracuse Dumpster Rental HQ offer a valuable and convenient solution for sanitation needs at various events, construction sites, and outdoor gatherings in Syracuse.
All your dumpster rental questions answered: 315-640-3447
We offer low prices without hidden or extra fees.
We have no hassle simple straightforward contracts.
We always deliver the bin on time and pick it up on time.
We are a green company and we love recycling.
We are a Syracuse local family-owned business.
Become one of our hundreds of satisfied customers.